Volk Law Offices News
VolkLaw Tours Structural Composites, Inc.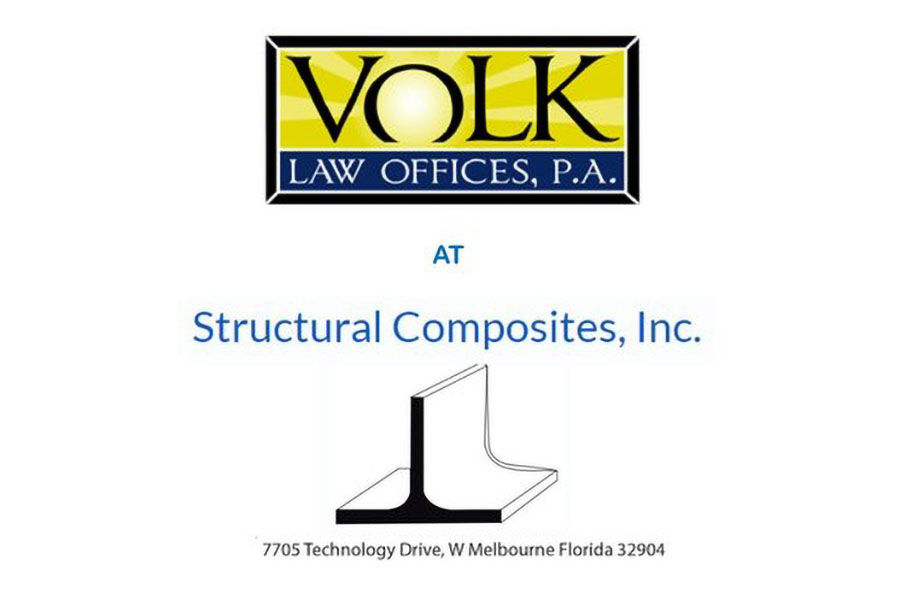 VolkLaw attorneys Brian Solomon and Michael Dujovne toured the manufacturing facility of Structural Composites, Inc., the recipient of the 2018 Innovation Company of the Year Award presented by the Space Coast Economic Development Commission. Mike Nichols, Vice-President of Business Development, guided the attorneys through its manufacturing facility of composite components utilized in various industries including construction of semi-tractor trailers and marine manufacturing. The attorneys were exposed to a business that combines superior product design innovations with state-of-the-art manufacturing processes implemented by its widely diverse work force.
Structural Composites, Inc. is a shining example of Brevard County's diversified economy that makes the Space Coast a beacon for the State of Florida. Structural Composites, Inc. and its employees are another example of why VolkLaw is honored to support and serve Brevard County's businesses and citizens.
About VolkLaw:
Volk Law Offices, P.A. has been serving the Central Florida area and more for over 23 years. Our attorneys are experienced in Business Litigation, Real Estate, Labor and Employment, Construction Law, Insurance, Environmental, Zoning, Land Use and Property Rights.
We say VolkLaw means business, because it has the expertise, experience, and systems resources to effectively represent entities and individuals with excellent service and quality work.
To learn more about the firm, visit https://volklawoffices.com.
---