Volk Law Offices News
Attorney Michael Dujovne Attended the Palm Bay Chamber of Commerce's 11thAnnual Mayors' Breakfast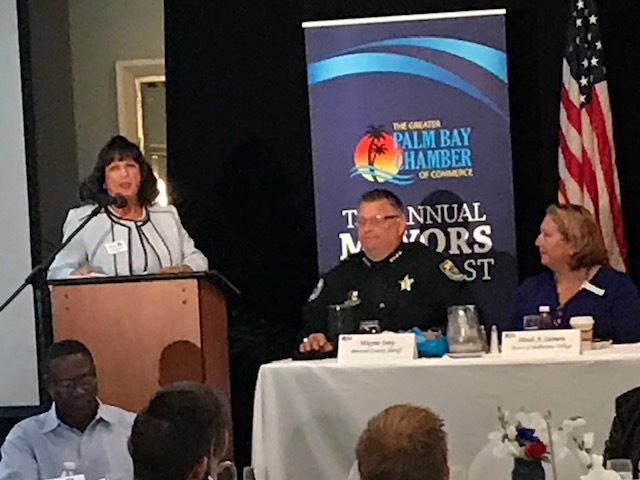 On May 17, 2019, VolkLaw Attorney Michael Dujovne attended the Palm Bay Chamber of Commerce's Annual Mayors' Breakfast. The mayor of every town and city in Brevard County attended and gave updates on the state of their particular community. Some, like Mayor Kathy Meehan of Melbourne, promoted the City's growth, while others, like Mayor Del Yonts of Grant-Valkaria, promoted the rural characteristics of Brevard's newest town. Other mayors talked about some of the challenges they were facing.
It was nice to see that our county is made up of such a diversity of cities and small towns. Their local governments are made up of large staffs for the bigger cities, while the smaller towns are represented by just a handful of people. The issues they deal with are all relative to their size and location, and their idea of the perfect community all differ.
The Master of Ceremonies was Sheriff Wayne Ivey. The good Sheriff had a great time roasting the mayors collectively and individually. They were a captive audience and could do nothing about it! They took it with good humor while the audience was in stitches. Sheriff Ivey even warned the audience not to take photos of him with any of the mayors because he had to run for reelection, and he did not want to ruin his chances. Only Sheriff Ivey could get away with saying some of the things he said. He poked fun at himself as well, especially when it came to his weight. Overall, he was the ideal choice to be the Master of Ceremonies.
---